The Perfect Tool Won't Solve Your Problems
Whether it's in our personal or professional lives, many of us keep looking for the perfect tool. We try different planners, different apps and different software, thinking there is something out there that will help us get organized.
In the agency world, the same thing occurs. Everyone is looking for the perfect project management tool that will solve all their problems.
We get calls all the time from prospects who are switching from one tool to another because the old one isn't "able to meet our 'unique' requirements" or it "doesn't give us what we need."
The thing is, it's almost never the tool that's the problem.
The real problem is that you aren't addressing people and process problems first.
If you find yourself in this situation, thinking that your agency just needs a better tool, stop and ask yourself a few questions.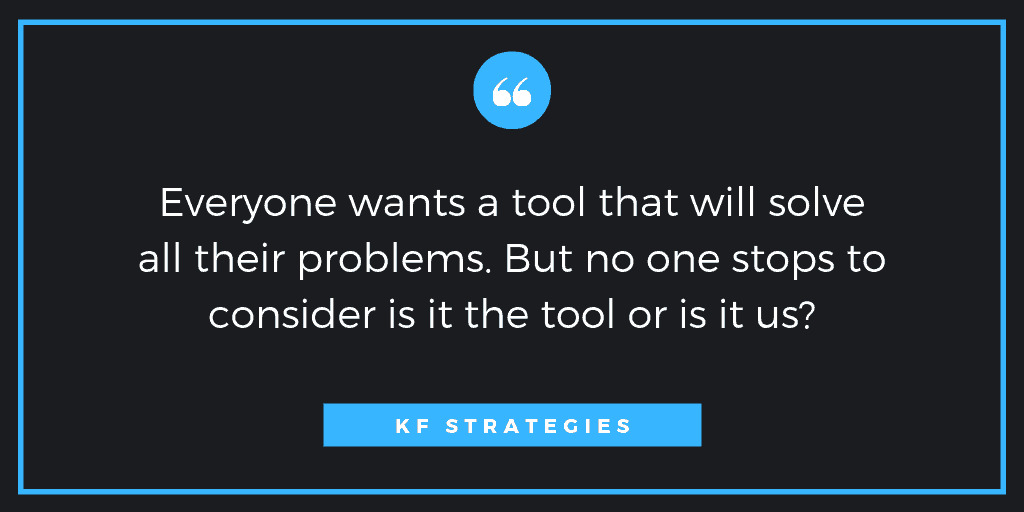 Questions to Determine if You Really Have a Tool Problem
Have I tried following the process myself?
If you follow your processes and run into problems, then you have process and people issues.
Are there recurring problems?
If you keep encountering the same problems, you likely have process, people and systems issues.
Have I listened to feedback?
If you either aren't asking your team for their feedback, or you aren't doing anything with their feedback, you have a people issue.
Am I using our existing tool the way it was designed?
If you know you aren't using your existing tool to its capacity, or you aren't sure, you most likely have a people problem.
Are we silo'ed?
Are many of the people in your organization operating in silos? If so, there are process and people issues that should be addressed.
Are we still using Google Sheets or Excel?
If you are using either of these to manage projects, then you definitely have a systems issue.
Are we communicating everything by email?
If communication about projects is done through emails, you have process and systems problems.
Are we setting expectations and managing them?
If you can see that this is a weakness in your organization, you have people and process problems, not a systems problem.
Do we need better collaboration and time management and to reduce time spent creating weekly status reports and meeting minutes?
If so, your opportunity for improvement lies in evaluating your people, process and systems.
Are everyone's roles and responsibilities clearly outlined?
If not, there are people and process issues.
Are we using multiple tools, such as Basecamp, Asana, Trello, QuickBooks, email and Dropbox?
Using multiple tools, especially those that do similar things, is a sign that you have a systems issue.
If your answers to these questions indicate that you have a people, process or systems issue, you may feel overwhelmed. It can be harder to identify a people, process or systems issue than it is to switch to a new tool.
That's when it's time to bring someone on board who can provide objective expertise to help you identify the problems and provide solutions. If that's something you need, email us.
Everyone wants a tool that will solve all their problems, whether it's communication, file management, resource management or financial requirements. But no one stops to consider is it the tool or is it us?
It always goes back to your people and your processes. If you don't have the proper structure, accountability, roles and responsibilities clearly outlined, no tool will change any of that. Your people define your process and your process defines the tool.
Let us help. Call or email us today. We will help you resolve all of your challenges, and either leverage the tool you're already in, or help you find the right one that fits your needs.