Thanksgiving is just a few days away, and with it comes the kickoff to the holiday season.
Thanksgiving can be unappreciated because we move straight from Halloween to Christmas. We can easily treat Thanksgiving like a day full of food in the middle.
In my family, two of the things we enjoy most on Thanksgiving are watching the Macy's Thanksgiving Day Parade and The National Dog Show.
Now don't get me wrong, entertainment and food are great, but shouldn't Thanksgiving be more?
Thanksgiving is supposed to be about gratitude. And, I am thankful for my family, faith family, friends, business partners, and clients. But do I take them all for granted? Absolutely!
Gratitude should be a part of the workplace too. I work with businesses to bring teams together from different departments to learn from one another and understand each other better. This breaks down barriers and creates an atmosphere of collaboration and thankfulness. Employees feel thankful when they realize they're not alone in their challenges. This realization makes everyone more willing to develop a collaborative process that meets both team's needs.
Fostering gratitude in the workplace also has business value. Studies have shown that gratitude increases employees' loyalty to the company, motivation, engagement, and more.
So, as leaders, how can we practically show more gratitude in the workplace? By reaching out to these three audiences:
Customers and Clients
Most businesses send something to say thank you to their clients and customers during the Christmas season. Consider sending them something for Thanksgiving, and go a step beyond sending a card with your stamped business name. Write handwritten cards with a personal note or include a small gift.
Employees
We have all heard that employees are our most valuable assets, but do we really behave that way? How does your company show gratitude to a team or individual who does a great job on a project or secures a new client? Do you have a process that ensures you recognize stellar teams and individuals? If not, now is the time to create one.
Partners and Colleagues
None of us have gotten to where we are on our own. We have had mentors, bosses, peers, and connections that have helped us along the way. It's easy to thank these people in the moment but forget about them as time goes by. Reach out and let them know how they impacted you and that their kindness was not forgotten.
John F. Kennedy once said, "As we express our gratitude, we must never forget that the highest appreciation is not to utter words but to live by them."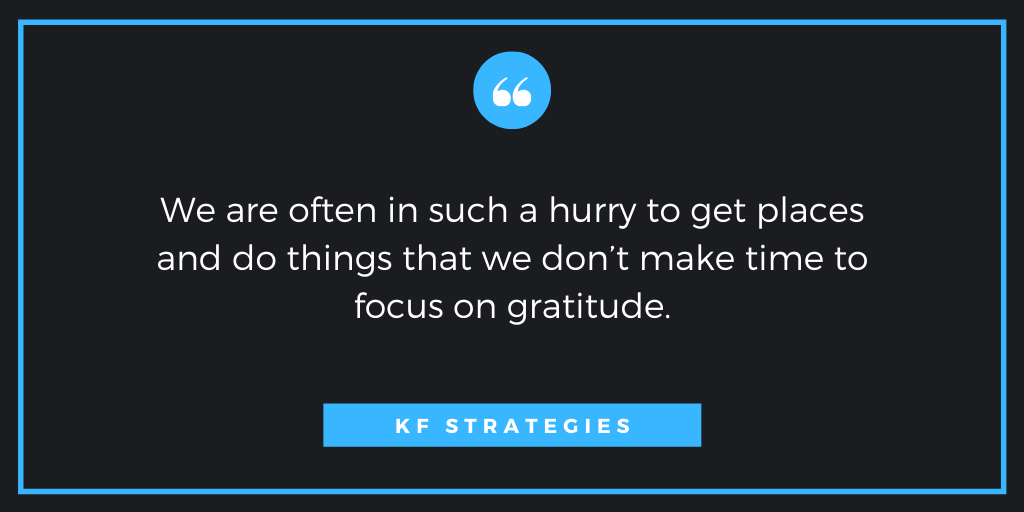 It can be painful to admit, but selfishness is in our DNA. And all too often, we are in such a hurry to get places and do things that we don't make time to focus on gratitude.
Life is short, so I'm challenging all of us to take stock of our lives and the people in them and show more thankfulness.
Let's start on Thanksgiving Day, and make it a priority throughout the year.