Leader, You Set The Tone for Change
Change is something we all struggle with, personally and professionally.
Many resist it, which makes it more painful. Some of us are set in our ways, and some are paralyzed by fear of the unknown and what if's.
My family is facing some big changes right now, changes that I can't say I'm excited about.
Our daughter moves away to college in just a few short days. It seems like just yesterday she was starting kindergarten. At the same time, our son is starting his sophomore year at a new high school.
While I want to be excited for this next chapter in their lives, I realize the brutal truth: everything is going to be different. This is unchartered territory. And if I'm being honest, I'm terrified. So many unknowns, so many what if's swarm through my mind, and as a mom, my heart is heavy.
The thing is, change is the only constant in our lives. Life as we know it today will change whether we want it to or not. We all have a decision to make. We can either kick and scream, resisting it, or we can embrace it and move forward, trusting the outcome will be for our good.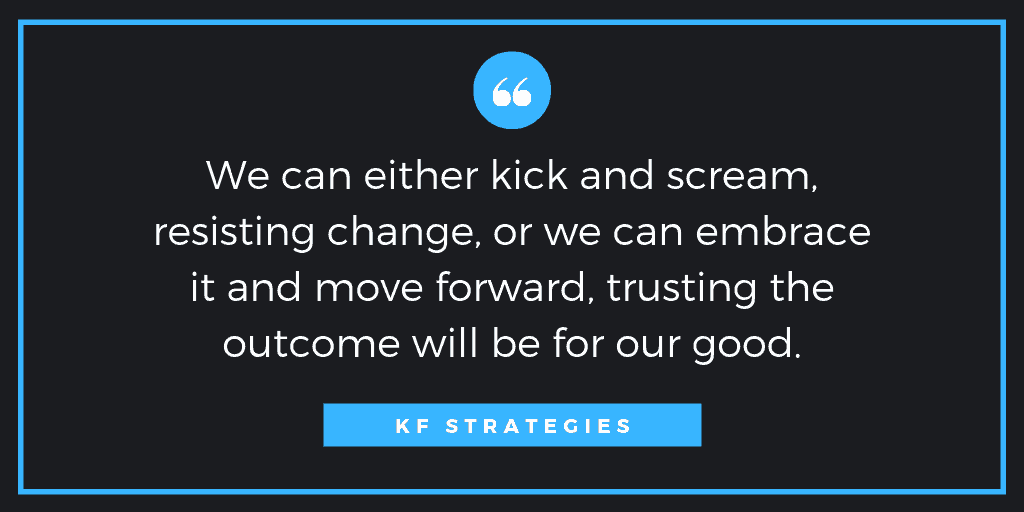 The same principle applies in business. Change stretches us and transforms us.
You can make a change that adds amazing people to your team or let those who aren't as effective go to find new opportunities elsewhere. You may be considering a change in your agency, your processes, software, tools, etc.
You must realize that as a leader, you set the tone for change.
3 Keys to Embracing Change
Bestselling author and leadership expert Michael Hyatt says there are 3 keys to embracing change: accept your reality, lean into the challenge, and get up when you fall.
Accept your reality.
Being in denial, ignoring the situation, or trying to escape it is harmful to you personally or professionally. Be brave enough to acknowledge the reality of your situation. Before you can make any change, you must first accept where you are now.
Lean into the challenge.
Accepting your current reality can be difficult, but it empowers you to make a change. Leaning into the challenge you are facing frees you to come up with creative solutions. A leader who leans into a challenge sets the example for his team and lessens their fear.
Get up when you fall.
There is no denying that change is hard. You will probably make mistakes, but don't let those mistakes discourage you. Keep moving toward your goal. The most successful leaders have accomplished much because they kept going despite failure, criticism, and slow progress.
You have the power to support and empower change. Your enthusiasm will spread to your team or your resistance will bring negative consequences.
Either way you have a choice to make.