We are several weeks into Covid-19 restrictions, and while many states across the country are beginning to relax some restrictions, remote work is a change that many experts think is here to stay.
President of Global Workplace Analytics Kate Lister said of remote work: "The coronavirus is going to be a tipping point. We plodded along at about 10% growth a year for the last 10 years, but I foresee that this is going to really accelerate the trend."
MarketWatch predicted that remote work will continue because of several advantages to companies including access to a large talent pool, lower labor costs, ease of expanding, and better integration as a result of technology.
In fact, the average company "saves about $11,000 per half-time telecommuter per year, according to Global Workplace Analytics."
But let's remember, we as a society were thrust into this new working model without preparation. And that lack of preparation can mitigate some of the advantages of remote work.
Every company needs a strategic plan in place to ensure the success of remote work. An article in Forbes reiterates that companies must have processes and tools in place that equip their teams to maintain their productivity.
It is never too late to create a strategic plan and improve your team's ability to successfully work remotely.
That plan should include an evaluation and of:
Company communication
Company processes
Company tools
Communication
Tsedal Neeley, a professor at Harvard Business School believes that the right technology tools and clear and constant communication are critical to a successful remote work environment.
Most business experts agree with Neeley that one of the main challenges of remote work is communication. Questions arise such as:
Where will information be housed that is needed by multiple team members?
How will you track progress on ongoing projects across teams?
Successful remote work requires that everyone communicate when needed and that managers check to see that communication is happening.
When in doubt, leaders should over communicate to ensure everyone is on the same page. For example, you can't assume that because you sent an email, everyone has read and understood it. If the message is important, follow up via chat or phone to confirm that everyone understands.
Processes
The project management experts at Workamajig recommend all companies have processes to:
Document and seek project related information
Identify roles and communication protocols
Ensure enforcement of processes
For example, it is critical that project information is kept up-to-date and can be relied upon in decision making and reporting. Processes must be in place with staff assigned to that data management component.
Tools
Many businesses are surviving right now by sharing information in email, team messaging programs, and project management platforms, but using multiple tools makes it difficult to find valuable information.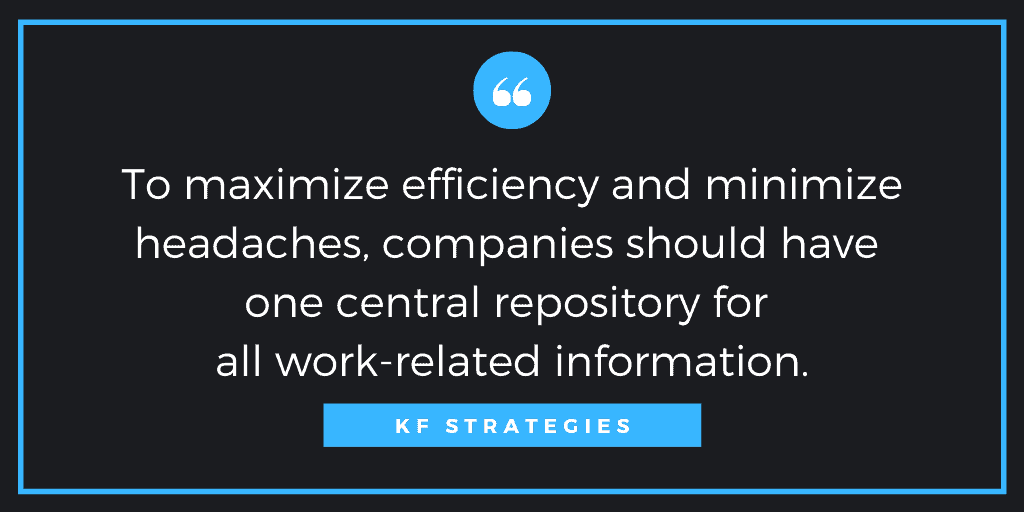 To maximize efficiency and minimize headache, we recommend companies have one central repository for information. Workamajig offers this feature, which means that regardless of how many people are involved in a project, everyone has quick access to all information in the same place.
---
If you need help creating a strategic plan to ensure your business succeeds working remotely, contact us for virtual consulting.
This is what one of our clients had to say:
"I can't begin to imagine how our company could function efficiently and effectively during this unprecedented time we are currently experiencing had we not had KF Strategies by our side. Kimberley and her team provided us with the structured processes and customized Workamajig system that has allowed us to march forward without missing a beat. Our virtual doors are open and we are able to serve our customers!"